Our Study program

The new "Electromobility-ACES" course of the technical faculty will start in the winter semester 2022/23.
From autumn 2022 on, we will not only offer you a start in the six-semester bachelor's degree program, but also a start in the four-semester master's degree for bachelor's in related degree programs such as mechatronics, automotive engineering or the like.
The specialization fields "ACES" of the course (based on / further development of the McKinsey ACES 2019 survey) go far beyond pure electric mobility and reflect the skills of the TF and the fields of action for the future of mobility:
–AI & Autonomous driving
–Connectivity
–E-powertrain
–Sustainable mobility & Production Technology
The new interdisciplinary course bundles the extensive existing competencies of the technical faculty in these areas in teaching and represents an attractive offer for prospective students.
For further information, please contact studium@mb.uni-erlangen.de (you may write in English or German language).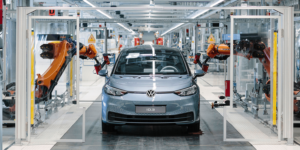 (Source: VW / electrive.net)